FHS Warriors Take State Tournament North Section II, Group IV First-Round Game, 44-39
---
Defense was the name of the game Feb. 25 in the Franklin High School Warriors' 44-39 win over Columbia High School in the state tournament opening round.
A total of 13 points were scored in the first quarter, attesting to the teams' game plans.
Joshua Kuroad-Grauer opened the scoring for the Warriors, slipping in a follow-up layup after a missed shot.
Tracy Brown then hit with the first of his four 3-pointers, giving the Warriors a 5-0 edge.
Grauer then went coast-to-coast, putting the Warriors up by 7, after which Columbia put itself on the board.Columbia would then score 4 more unanswered points before the buzzer.
Both teams traded leads in the second quarter, with Columbia taking an 8-7 lead 30 seconds into teh frame.
The Warriors took back the lead after a hard drive to the paint and a short jumper by Grauer put Franklin up 9-8.
After Columbia regained the lead, Dominic Bacallao-Wright fed Trevor Midgette, who was fouled on his shot. Midgette converted both foul shots, giving the Warriors an 11-10 lead.
With less than two minutes left in the half, Brown's second 3-pointer tied the game at 14.  A foul and a converted extra point left Columbia with a 17-14 lead at the half.
The second half belonged to the Warriors, who outscored Columbia 30-22.
Grauer cut into the lead, converting two foul shots, after which a corner jumper by Jared Williams gave Franklin an 18-17 lead. Two converted technical shots, however, put Columbia back in front, 19-18.
Franklin took a 20-19 lead after Williams hit a field goal. He was fouled on the shot but missed the free throws.
Brown and Wright traded 3-pointers in the final minutes of the third quarter, giving the Warriors a 29-27 lead at the buzzer.
In the fourth, after Columbia tied the game at 29, Wright put the Warriors up by one after converting one of two foul shots.
The Warriors then regained and extended their lead to 35-31 with a 3-pointer by Wright and a layup by Grauer.
Wright's third 3-pointer gave teh Warriors a 38-33 lead.
With just over three minutes left in the game, a steal and conversion by Grauer gave the Warriors a 42-35 lead.
Columbia scored four unanswered points, drawing to 42-39, but two converted foul shots by Williams put the Warriors up by teh final, 44-39.
Brown and Grauer led all scorers with 12 points each, with all of Brown's points coming from downtown.
Wrights scored 10 points, Williams contributed 6 points, and Demi Alao and Trevin Midgette scored 2 points each.
Warriors head coach Tony Mento said the thing he liked about teh game was "that was two teams out there grinding for their state playoff lives. It wasn't a pretty basketball game, but this is all about survive and advance."
"We are two defensive-minded teams, you could tell," her said. "We really didn't know each other very well, but we got to know each other on tape very well, and you could tell we both had a game plan to stop the other's offense, and it worked."
"This is the first time our seniors have been in a state playoff game, so for them to come up big, especially Dominic and Jared in the second half, I thought that was really big for us," Mento said.
The Warriors will next face Hunterdon Central, who defeated Barringer 60-43 in first-round play, on Feb. 27.
Here are some scenes from the game: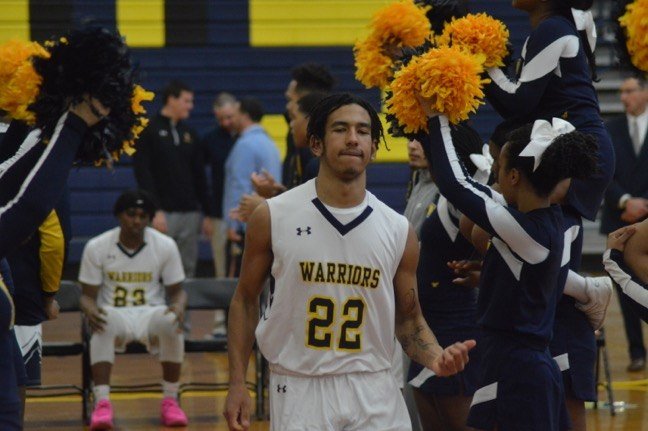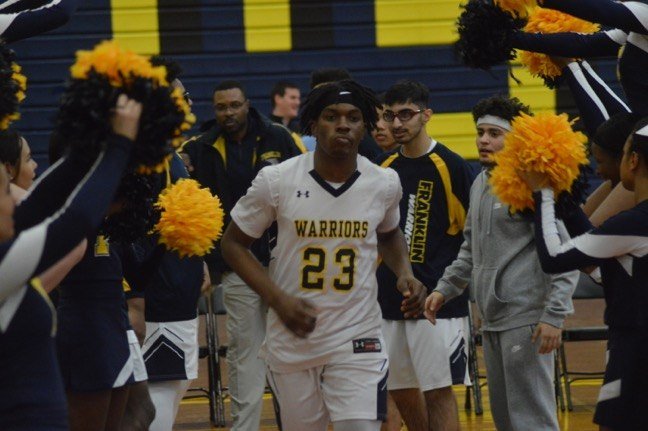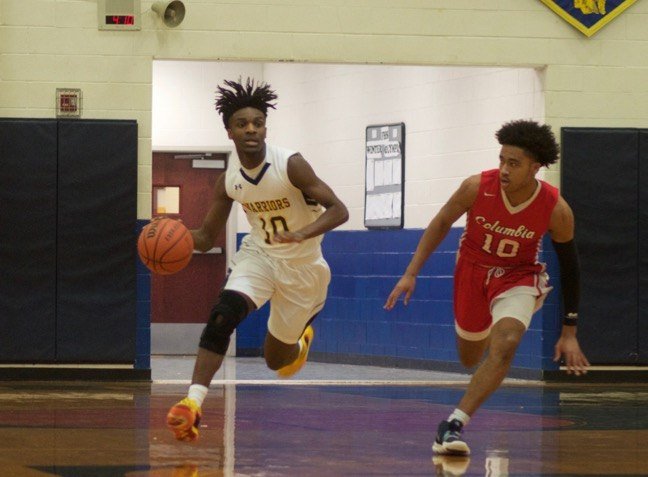 Your Thoughts
comments