FHS Sports: Girls Basketball Team Topples Westfield in Sectional Quarterfinals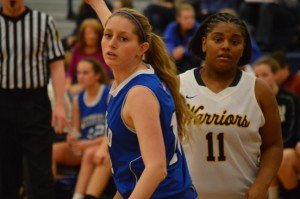 It took them a while to get used to a defense they'd never seen before, but the Lady Warriors basketball team got their game together in the third quarter and held on for a 52-48 win over Westfield High School in the NJSIAA North Section 2, Group 4 quarterfinals.
The Blue Devils pressured the Warriors early in the first quarter, forcing several turnovers that led to baskets. The teams battled to an 11-11 tie at the buzzer.
Westfield kept the pressure up in the second quarter, ending the half with a 30-27 lead.
Two quarters was all the Warriors needed to get a grip on the Blue Devils defense and turn the tables. Holding the Blue Devils to just 5 points, the Warriors scored 17 to take a 44-35 lead into the game's final 8 minutes.
It looked as though Westfield may stage a dramatic comeback in the fourth quarter; the Blue Devils scored seven unanswered points to start the period.
With a minute left to play, Franklin held on to a slim 46-45 lead. The Warriors outscored the Blue Devils 6-3 in the final minute to take the game.
Warriors coach Audrey Taylor the Blue Devils defense "confused them a little."
"It took them a second to get used to the defense," she said.
The team, Taylor said "gave up way too many easy baskets in the first half."
The difference in the second half came when the Warriors "started executing on offense," Taylor said. "Our thing this year has been composure, not letting things rattle us."
3-6-14 Lady Warriors vs Westfield
Your Thoughts
comments