Updated: FHS Principal Likely To Move On To Princeton HS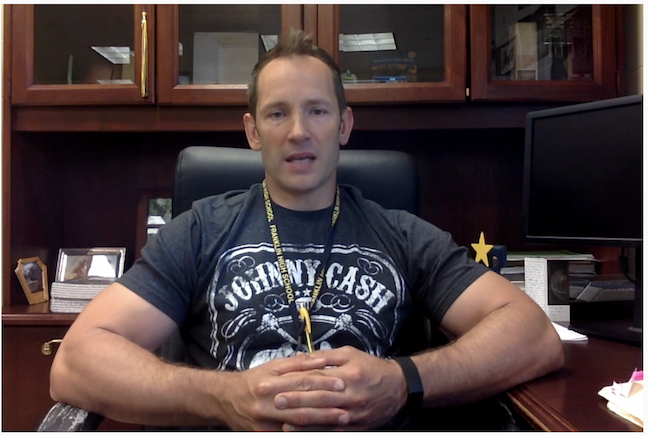 ---
Update: The Princeton Board of Education formally appointed Frank Chmiel as its new high school principal at its April 27 meeting. Chmiel will start the $164,000 position on July 1.
In a press release about the appointment, Princeton interim schools Superintendent Barry Galasso said that Chmiel was chosen from among more than 12 candidates and underwent four rounds of interviews.
 "Frank Chmiel stood out for several reasons, including his excellent academic and leadership credentials, as well as his commitment to and knowledge of the Princeton community," Galasso said in the release. "Mr. Chmiel is excited to work with our PHS administrative team to help support students. He has stated that this position is the only position for which he would have left the Principalship of Franklin."
Original Story: In what he characterized as a "family decision," Franklin High School principal Frank Chmiel will most likely leave his position to be the educational leader at Princeton High School.
Chmiel made the announcement in a 7 p.m. phone blast to high school families on April 22.
The move is not yet definite but is probable; Chmiel's appointment as PHS's principal still has to be approved by the Princeton Board of Education. The Board is expected to take the vote at its April 27 meeting.
If approved, Chmiel would fill out the remainder of this school year and start in Princeton in July.
Chmiel, who has been in the district administration for eight years, became FHS principal in March 2018. Prior to that, he was a vice principal at Franklin Middle School, and before that was in the FHS administration.
Early in his career, Chmiel taught history at Montgomery High School.
In his phone message, Chmiel said he "did not think this day would ever come."
"I am so happy with the learning community that we have built," he said. "However, my family and I have been living in Princeton for 26 years now; Princeton High School is the alma mater of my older children, and the school to which my younger children will someday go."
"Thus, this decision is a family decision that will help me play a direct role in the education of my sons," he said.
"You have given me memories that will last the rest of my life," Chmiel said. "We've laughed together, cheered together, shed tears together and learned together. I thank you for everything Franklin. You will be in my prayers."
"No stupid ranking system will ever capture what an amazing treasure Franklin High School is," Chmiel said. "I would proudly go into any battle, side-by-side, with you, Warriors."
"To live Franklin High School is to love it and experience how exceptional it truly is," he said.
Schools Superintendent John Ravally said in an emailed statement that "we appreciate the work that Mr. Chmiel has done at Franklin High School, especially his rapport with our students there. We know that this was a personal decision and understand that Mr. Chmiel and his family have strong ties to the Princeton community and school district."
"We wish him success in this next chapter in his life and we look forward to starting the process to bring another strong leader to guide our own FHS Warriors next year," Ravally said.
Board of Education president Nancy LaCorte said in an emailed statement that Chmiel "has been, and will always be, a part of Franklin. Our students, parents, staff, and community are grateful for his hard work, dedication, and commitment to Franklin."
"On behalf of the Board of Education, we wish him nothing but the best in his future endeavors. Frank Chmiel is a true Warrior."


Your Thoughts
comments