Central Jersey College Prep Graduates Told To 'Be Yourself'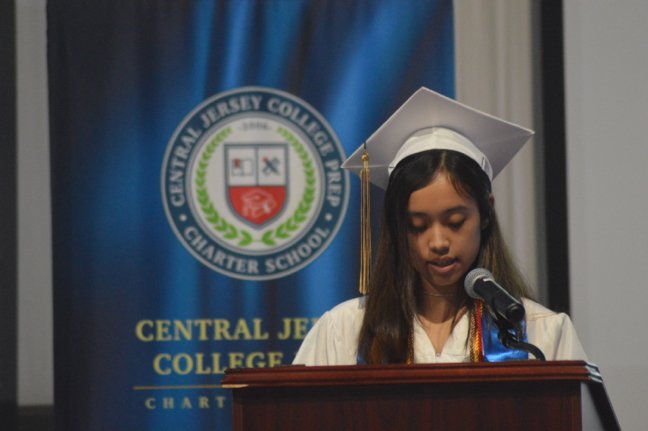 ---
Central Jersey College Prep Charter School's Class of 2019 was told on June 21 to not be concerned if, in the future, they feel lost as they chart their future.
"Being lost does not mean you have no direction, it just means you haven't chosen one yet," Kyle Anderson, teh keynote speaker for the 2019 graduation, told the students.
Anderson is the interim Middlesex County Executive Superintendent of Schools.
Anderson told the 47 graduates that each one of them will have their own journey in life.
"Your journey is not going to be the same as the person sitting next to you," he said. S"o whether your next step is to join the military, go to college, learn a trade or enter the workforce, realize that this is a part of your journey to become the person that you wish to be."
"There is no set path, and we need to go out and experience this world for ourselves, to meet new people, to embrace culture, diversity and change," Anderson said.
"You have the keys to the kingdom, and there are many doors," he said. "All you have to do is open one and you will start your journey. Remember, there is not much difference between deciding and being undecided but deciding says that you are in control of your decisions."
"Always remember to move yourself, to prove yourself, to see yourself, to lose yourself, but most importantly, to be yourself," he said.
Class President Priya Neill told her classmates that they should not feel obligated to live up to others' expectations, and not to worry if their goals in life change.
"You don't have to cram all of your character development in these four years, or even the next four years," she said. "What you want to do now may not be what you want to do later on."
"You can never be a disappointment if you're doing what you love," she said. "It means that you trust yourself, and if you don't trust yourself, who's going to?"
Salutatorian Vinay Thomas said it's OK now for graduates to not know what they want to do with their lives.
"Some of us may not know what we want, we don't have life figured out yet, and that's OK," he said. "We will grow and we will evolve in the next how ever many years."
But, he said, graduates still have responsibilities.
"As a graduating class going into the outside world, we have a responsibility, a responsibility to follow our dreams and aspirations … what we can control is our future and what we choose to do with the cards that we've been dealt," he said.
"There is no doubt in my mind that every graduate in this room is going to do great things," he said. "At the end of the day, it's not grades that will be remembered … but how many lives we've touched."
Christine Nguyen, the class Valedictorian, told her fellow graduates that the most important thing she learned at CJCP is to not be afraid to ask for help when you need it.
"Sometimes one person has to step it up for the other, and in those moments you shouldn't be embarrassed to ask for help because those people are going to build you up and they will be your support system," she said. "And sometimes you have to let yourself fall so that you can learn how to pick yourself up."
"It's also important to recognize that no matter what successes you're aiming for, taking care of yourself, including your metal health, should always be your priority," she said.
Jackie Lewis, representing the school's Board of Trustees, said that she prays for the graduates' happiness.
"I pray that God will be with you wherever you go," she said. "I pray that He will protect you, whatever you do. I pray that joy will fill your heart because you deserve every good gift a wonderful life can give you."
"I'm delighted to witness you receiving your high school diplomas today and celebrate your awesome accomplishments," Lewis said.
Following are some scenes from the day:
Your Thoughts
comments