Brix Is Ready for His Forever Home
Brix
Dog • Pit Bull Terrier & English Bulldog Mix • Young • Male • Large
Brix is a super sweet, fun-loving guy. He is about a year and a half old and is an active, social, playful fellow looking for a home where he can love life with his new owner! Brix was surrendered with his twin brother Taz because they were too much for their owner to handle. Brix is eager to please and knows sit, but is in need of training to reach his full potential as a canine companion. We know Brix and Taz get along together and Brix has shown no other signs of aggression, but he may or may not be able to go home with another dog who is not Taz. Brix and Taz would love to go home together if you have space for them both! Brix will be neutered before going home.
The adoption fee is $60 per pet with additional discounts available for adopting two animals together. All animals from the Franklin Township Animal Shelter are spayed/neutered, microchipped, and up-to-date on all age-appropriate shots prior to adoption. Cats have also been tested for feline leukemia and FIV.
---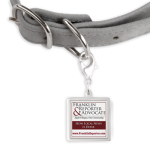 We have the perfect accessory for your new pet! A custom Franklin Reporter & Advocate pet tag! Click here for more information and to order! (Collar not included).
---
All information is supplied by the Franklin Animal Shelter, 475 DeMott Lane, Somerset, next to the municipal building. Shelter hours are 12-3 p.m., Tuesday through Friday and 12-6 p.m. Saturdays. The shelter phone number is (732) 873-2500, ext. 6255. They can also be reached by email at katie.nordhaus@twp.franklin.nj.us, and you may visit their Web site.
Click here for reuse options!


Copyright 2017 The Franklin Reporter & Advocate

Your Thoughts
comments