5 Somerset Patriots Named All-Stars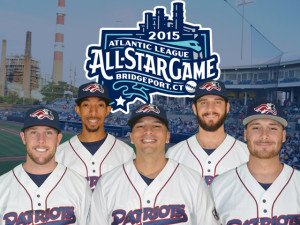 Bridgewater, NJ- The Atlantic League of Professional Baseball has named five Somerset Patriots as All-Stars to represent the Liberty Division in the 2015 All-Star Game to be played at Harbor Yard in Bridgeport, Connecticut on Wednesday, July 8th.
Outfielders Aharon Eggleston and Scott Cousins, catcher James Skelton, and pitchers Sean Bierman and Lucas Irvine have been chosen to represent Somerset in the Mid-Summer Classic.
Eggleston is leading the team and ranks third in the league in hitting with a .316 batting average. He has 33 runs scored, 55 hits, and 16 RBI through 53 games played. It is Eggleston's second Atlantic League All-Star selection, having been named to the 2013 All-Star team.
This is his third season with the Somerset Patriots. Last year, he appeared in 74 games and had a .251 batting average, 46 runs, 65 hits, nine doubles, four triples, and 25 RBI.
Cousins is hitting .281 with 22 runs, 41 hits, and 18 RBI in 39 games played. Cousins has four years of Major League service to his name. He spent parts of 2010-12 in the Majors with the Miami Marlins before appearing in seven games with the Los Angeles Angels of Anaheim in 2013. Over his four years in the big leagues, Cousins played in 135 games, hitting two home runs with nine RBI.
The former third-round draft pick by the Marlins has eight seasons of minor league experience, including a 2010 season where he hit .285 with 14 home runs and 12 stolen bases for Triple-A New Orleans.
Skelton has been one of Somerset's most clutch hitters, with two walk off hits for the team in the first half. He owns a .262 average with 15 runs scored, 27 hits, and 14 RBI in 35 games played this season. Last year, he split time in the Atlantic League between the Blue Crabs and the Lancaster Barnstormers, posting eight home runs with 40 RBI and 15 stolen bases.
This is Skelton's second stint with the Patriots; he last played in Somerset in 2013. That year, he hit .268 while playing catcher, first base and second base.
Bierman is among the league's top pitchers with a 7-1 record, a 1.55 ERA, and 42 strikeouts over 81.1 innings pitched in 12 starts. He also has two complete games on the season.
This is the Kinnelon, New Jersey native's first year with the Patriots. He brings three seasons of service in the Tampa Bay Rays, Chicago White Sox and Atlanta Braves organizations. Only once in his three-year career has Bierman had an ERA over 3.00 in a season (3.65, 2012).
Irvine has a 2.43 ERA and 54 strikeouts in 66.2 innings pitched in 12 games started. His 54 strikeouts leads the team.
This is Irvine's first season with the Patriots and third in independent minor league baseball. He spent one season in the Tampa Bay Rays organization in 2011 after he was drafted in the 27th round.
The 2015 Atlantic League All-Star Game will take place on Wednesday, July 8th at 7:05 pm at The Ballpark at Harbor Yard, the home of the Bridgeport Bluefish.
There will be a street fair outside the Ballpark beginning at 3:30 p.m., and the Atlantic League Home Run Derby will begin at 5:00 p.m. Tickets cost $11 for Reserved Seats and $14 for Box Seats. Professional wrestling legend Ric Flair® will be the guest host of the game, and there will be a special Meet & Greet before the game in the Two Roads Beer Garden. Meet and Greet tickets for Ric Flair are $75.
For tickets to the 2015 Atlantic League All-Star Game, visit the Bluefish Box Office at Harbor Yard, call (203) 210-BLUE, or visit www.bridgeportbluefish.com.
Your Thoughts
comments